All new version 3 Now available
One of the issue with the new 2017 is the poor availability of screens for it.  Along with those that are available being both expensive and ugly.  I set upon trying to find an good alternative.
What I came across was a Carbon Fiber screen for the older 2011-16 models.  It fits in around the display on these versions.  I took a punt on this hoping that I could make some kind of bracket to make it work.  I got this screen from Zero Limits they were great during the buying process and sent me lots of info.
Parts List
2 x Screen brackets (left & right)
2 x TFT brackets (Left and Right)
2 x Plastic TFT bracket spacers
4 x M6 Bolts 10MM
2 x M6 x 20mm bolts
2 x M5 x 25mm bolts
2 x M5 Washers
Fitment
These brackets are designed to allow the fitment of screens from the previous versions of the KTM Duke 125 and 390 from before 2017.  It has been tested with the Zero Limits carbon fibre version, but others that match the stock part should also fit.  Here are some links to various different screen choices.
I will be making and selling these brackets for anyone who would like one.  Please contact me for more info.
Manual
A full installation manual is available to download here
The carbon screen arrived quickly.
A quick test fit to make sure it is going to work.
Next I spent a lot of time 3D modelling and print off multiple brackets for testing.  Believe it or not this is only around 50% of them in this picture.
The final bracket is a 6 piece design and deals with all the angles etc.
Doesn't look half bad just the bracket.
The final screen in place.
From the riders seat.
One of the first things I wanted to change on the KTM Duke 390 is the amount of orange.  Whilst I like the orange I feel there is just too much of it.  I researched powder coating and other options, but in the end the easiest and cheapest option seemed to be obvious.  Get a pair of Duke 125 wheels.  These come in black as standard and from my research they should be identical.   After a bit of ebaying a got a barely used set for very reasonable money.  I was worried that the whole plan was not going to work, but it was all fine.  There were three differences between the 125 and 390 wheels:
Colour
Front disc size
The rubber bits seem to be a different design.
Apart from all those they are the same wheels.  Result
Pics: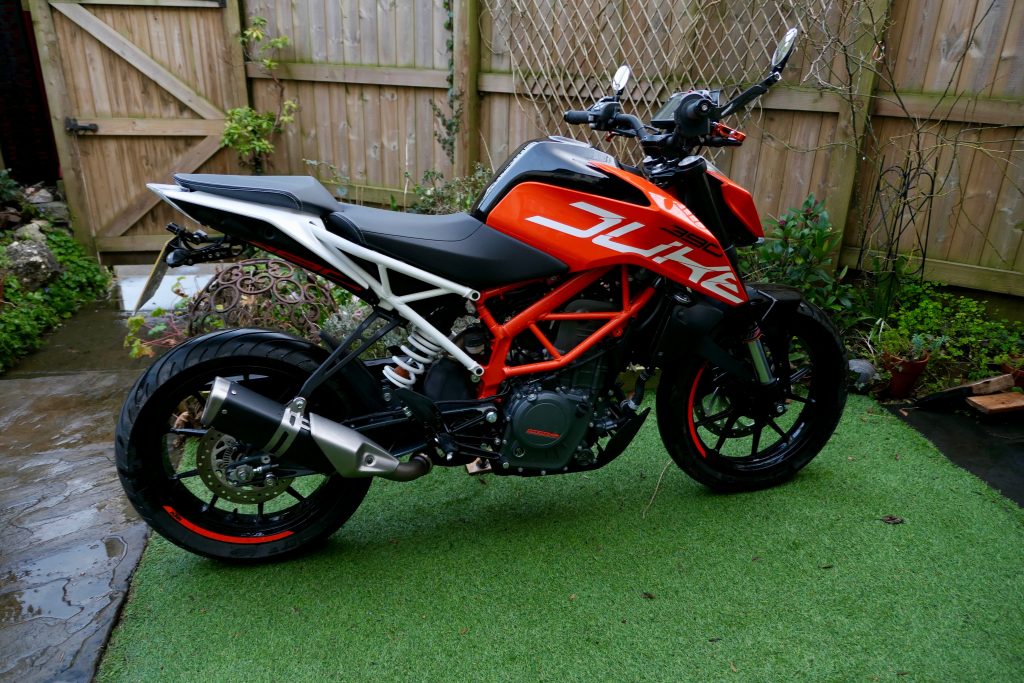 I still want to get rid of more the orange.  I'd love to get the frame painted black, but that just not going to happen.  I think the next stage is to swap the orange headlight side panels for black ones, and sort the white rear section out.
Well, after all the fun with my Z650 I decided it was time for a new motorcycle.  KTM were doing amazing offers over black friday with a 1/3 off a new KTM Duke 390.  It would have been rude not to bite their hands off.
I'm still running the bike in, but it is so light a nimble compared to my Z650.  I love it.
I intend to make a few changes to improve the bike.  These include a tail tidy and new mirrors and some other parts.