I've not be a fan of the plastic engine skid plate/sump guard on the 2017 390. It's quite plasticy and doesn't look great.  I wanted to find something that would look better and maybe provide better protection.  After a fairly long fruitless search I had given up on finding something the for the 2017 models.   There are plenty for the earlier ones but nothing for the newer models.
In the end I decided to take matters into my own hand.  I found a great looking guard for the 2012-14 models of the duke 390 and it looked like it should work.
AS3 Performance do a great looking aluminium sump guard and after approaching them about fitment they were very helpful.  They had no idea if it would fit, but if it didn't they would be happy to take it back.  They've been very communicative through the whole process.  So a big thumbs up for them.
It arrived and sadly the weather was far too wet to try it out.  So after waiting a few days I finally got to do a trial fit.  After taking of the stock skid plate it was clear that it was not a match for the AS3 performance guard.  However all was not terrible, I can sort this I was sure.
The front bracket was so close to fitting but was just 1mm out.  There is an aluminium spacer as part of the kit.  It was 15mm tall but needed to be 14mm.  Ok that's solvable I thought, a quick 3d printed test part proved that to be the case.  So I got my local machine shop to take off 1mm of the spacer and did a trial fit.
At the back things were far worse, the stock bracket was miles out.  However after spending some time pouring over the ktm parts fiches, I found a solution I thought should work.  That was to order the rear bracket for the 2014 model of the Duke 390.  It looked like a straight fit would happen.
I ordered a KTM belly pan bracket rear part number 93008021120 that was only a few pounds and waited for it to arrive.  Once it got here I did a test fit and blow me down it worked.
I think its about 1mm wider than the original part but that isn't a problem at all.
This allowed me to finally get the guard fitted.  I'm very happy with how it turned out, it should really protect the engine and gets rid of more bits of plastic!
I've done some more colour changing on the KTM Duke 390 2017, it's now a lot more black. The side panels and headlight surrounds are painted a Porsche Volcano grey metallic colour.
Also changed is the front mudguard for a carbon fibre Ducati scrambler with a custom bracket I designed and made.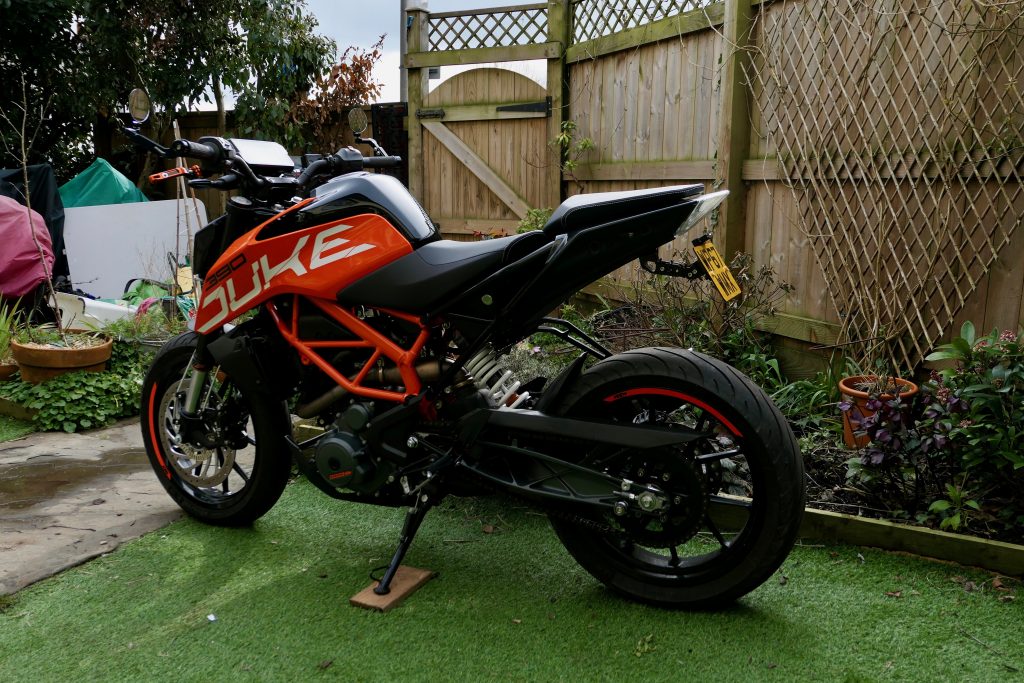 One of the first things I wanted to change on the KTM Duke 390 is the amount of orange.  Whilst I like the orange I feel there is just too much of it.  I researched powder coating and other options, but in the end the easiest and cheapest option seemed to be obvious.  Get a pair of Duke 125 wheels.  These come in black as standard and from my research they should be identical.   After a bit of ebaying a got a barely used set for very reasonable money.  I was worried that the whole plan was not going to work, but it was all fine.  There were three differences between the 125 and 390 wheels:
Colour
Front disc size
The rubber bits seem to be a different design.
Apart from all those they are the same wheels.  Result
Pics: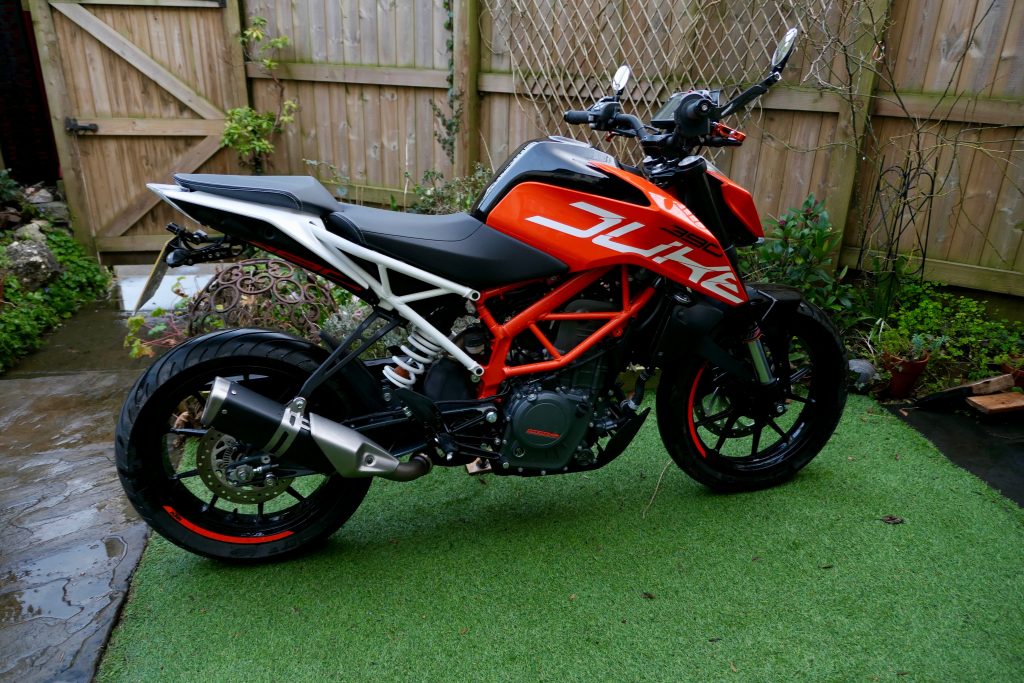 I still want to get rid of more the orange.  I'd love to get the frame painted black, but that just not going to happen.  I think the next stage is to swap the orange headlight side panels for black ones, and sort the white rear section out.