After releasing the second version of my brackets to allow the fitment of a small Carbon Fibre to the newer version of the KTM Duke 390 and 125 I went back to the drawing board to develop a whole new version.
My main reasons for this was to add more strength and make it easier to fit. Along with trying to make it easier for me to print and prepare for sale.
What I have come up with a is a single piece design and print which reduces the original 6 piece design with this 1 piece. I have designed it in such as way as to allow me to print it with zero support which take lots of time to remove after printing. I have also added some branding which is created by printing the text and then filling with paint later. More work, but adds to the design.
Parts List
1 Screen Bracket
4 x M6 Bolts 10MM
2 x M6 x 20mm bolts
2 x M5 x 25mm bolts
4 x M6 Nyloc Nuts
Gallery
Manual
A full installation manual is available to download here
Fitment
These brackets are designed to allow the fitment of screens from the previous versions of the KTM Duke 125 and 390 from before 2017. It has been tested with the Zero Limits carbon fibre version, but others that match the stock part should also fit. Here are some links to various different screen choices.
Warning: touring style screens or larger style screens have not been tested with these brackets. They put far more stress on the brackets.
I will be making and selling these brackets for anyone who would like one. Please contact me for more info. I ship pretty much anywhere in the world.
One of the first things I wanted to change on the KTM Duke 390 is the amount of orange.  Whilst I like the orange I feel there is just too much of it.  I researched powder coating and other options, but in the end the easiest and cheapest option seemed to be obvious.  Get a pair of Duke 125 wheels.  These come in black as standard and from my research they should be identical.   After a bit of ebaying a got a barely used set for very reasonable money.  I was worried that the whole plan was not going to work, but it was all fine.  There were three differences between the 125 and 390 wheels:
Colour
Front disc size
The rubber bits seem to be a different design.
Apart from all those they are the same wheels.  Result
Pics: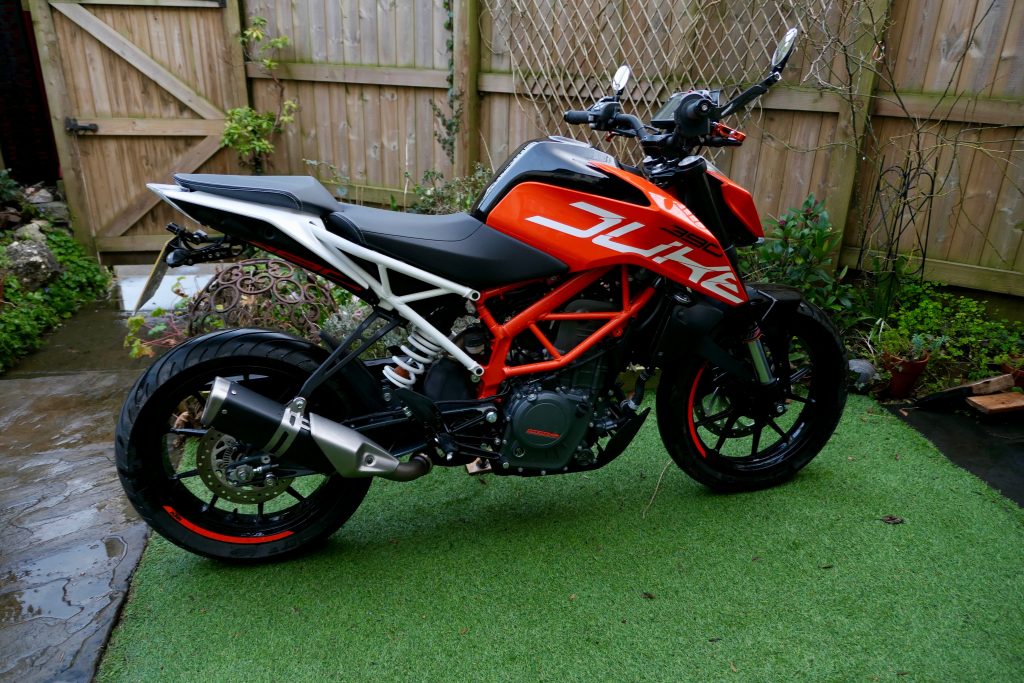 I still want to get rid of more the orange.  I'd love to get the frame painted black, but that just not going to happen.  I think the next stage is to swap the orange headlight side panels for black ones, and sort the white rear section out.