Well, I've had an interesting couple of weeks, but I've made more progress on the bike. Not nearly as much as I hoped for but at least it's moving forwards.
The indicators I ordered to go with the headlight brackets have arrived and I think they are going to look ace.
I've been making up a bracket for the rear lights and indicators along with the number plate. I've also after ordering four sets of indicators found some that didn't look cheap and nasty. They are cnd'd and look good. I need to sort the wiring out for them though.
After this I have continued work on the seat. First order of business was to paint the seat base. It will be mostly be hidden from view, but I wanted to make it black like the other parts.
I then glued the seat foam into position using spray on contact adhesive. I used tape to hold the foam in place whilst it dried. I was worried that the glue wouldn't work to well but it was great.
I then took an angle grinder with sanding disc to shape the foam. I thought this would be a nightmare, but it wasn't too bad. I have quite chuffed with the results.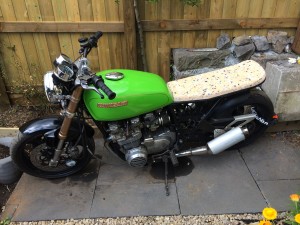 The other item I've been working on is getting a replacement set of gauges. As I would like to clean up the front a lot more. I was looking at Motogadget ones, but they are a little bit too expensive. Also the ones I liked didn't have both a rev and speedometer. So in the end I went for a Koso DB-01R which ticked most of the boxes for me. Of being small, but having all the features.
It came with a mount to attached to the handlebars, but on my bars it isn't going to work as you can probably tell from these pictures. Where the cable needs to go is right where the brackets are. So I will have to create some kind of mount so that I can attach it. I will wait until I remove the original gauges to decide where best to mount it.
Another job that I have completed is the battery bracket. It is now painted black and has a rubber base to keep the battery